The St. Jerome's University Academic Staff Association (SJU ASA) is in bargaining!
This site will be updated shortly!
This spring, the SJU ASA is bargaining for improved job security, job progression, and fairness and dignity for our contract academic staff (CAS) members.
On this site for SJU ASA members, you can learn about our bargaining mandate and what you can do to help us get a fair deal for our CAS members.
You can also learn more about our CAS members themselves and the broader issues of academic precarity they face.
We hope you'll join us.  A better deal for CAS is a better deal for us all!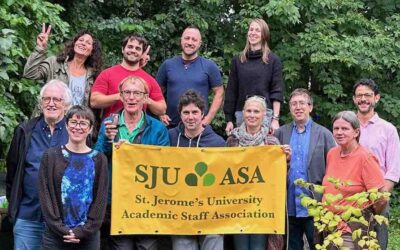 On Friday, September 8th, full-time and CAS members of the ASA gathered at our annual barbecue to...
read more
Learn more about us and what's coming next
News & Events
Stay up to date on the latest bargaining mobilization news.
What You Can Do
Join us as we mobilize for a better deal for our CAS.
Our Barganing Mandate
Educate yourself on the issues important to CAS members.